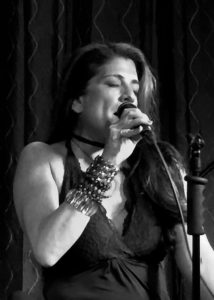 Stephanie Lynn
Vocals
Hometown: Madison, WI and Baltimore. MD
Resides: Lighthouse Point, FL
Influences: Dame Shirley Bassey, Carole King, Janis Ian, Linda Ronstadt, Ann and Nancy Wilson of Heart, Patsy Cline... endless list.
.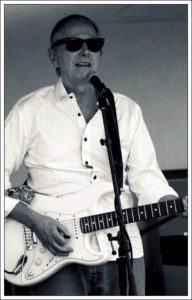 Bill Armstrong

Vocals, Lead Guitar, Harmonica
Hometown: Boston, MA
Resides: Hollywood, FL
Influences: Jeff Beck, Mick Taylor, Eric Clapton, Duane Eddy and Link Wray.
Moved to South Florida from his hometown of Marblehead, Massachusetts in 1980 to work for WCKT-TV (now WSVN) Channel 7 as a broadcast engineer and is still there mixing audio for all of their live shows. Picked up the guitar in 1959 at age 5 and started playing in garage bands by the time he was 13. In high school and college he played in two popular Marblehead bands...Rock 'N' Horse and Hard Knox. He was in the first band ever to play at 'The Rat' in Boston's Kenmore Square during his short stint with 'Mickey Clean And The Mezz'. Bill appeared on the 1995 album 'Hempilation' performing with David Peel and the 360's. Is a huge fan of Jeff Beck (check out his Jeff Beck Webpage - www.ainian.com) as well as Mick Taylor, Eric Clapton, Duane Eddy and Link Wray. Go Red Sox!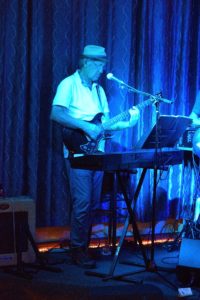 Arthur Ashton
Vocals, Lead Guitar, Keyboard
Hometown:  Liverpool, England
Resides:  Pembroke Pines, FL
Influences:  Elvis, Buddy Holly, Ray Charles, Little Richard, Joe Cocker & later Stevie Wonder and Al Jarreau.
Arrived in South Florida in the early 70's from Liverpool England. Has shared the stage with such names as the Beatles, Jimi Hendricks, Ray Charles, Eric Clapton, while playing in Billy J. Kramer's backup band. Worked on Florida cruise ships with his own band before settling in Miami and later Broward County. When not playing music, you will find Arthur teaching guitar & piano, or out on the tennis court.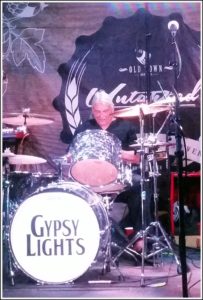 Steve Vanik
Drums, Percussion, Backup Vocals
Hometown:  Baltimore, MD
Resides:  Hollywood, FL
Influences:  Bobby Elliot of the Hollies, Dino Danelli of the Rascals, and John Poulos of the Buckinghams.
Started playing the drum kit at 14 years of age in his home town of Baltimore, MD and was playing gigs at 16 years of age. Played with many outstanding bands and musicians in the MD/DC area including Dust, Conditioned Response, and what was probably the very first Beatles cover band in the US - the original Blue Meanies before moving to Hollywood, Florida in 1976 and opening a dive shop. Has since played with a couple of short-lived south Florida bands until Gypsy Lights was born from a series of jam sessions.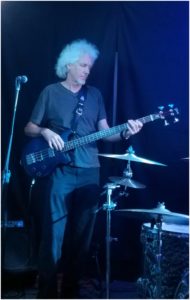 Steve Bass
Bass Guitar
Hometown:
Resides: Coral Gables, FL
Influences:
While working on a tramp steamer plying the seas between Scunthorpe and Birmingham in England, Steve fell overboard and was washed ashore in Florida. Quite liked the weather, so decided to stay. Heard Gypsy Lights were auditioning for a bass player, so learned to play the bass before tea, and the rest is history.